Residential Car Lifts in Garages
Parking Solutions are our Specialty at Automotive Machine Advisors
The best solution for turning your limited parking area into a spacious and modern place.
We cater to home and hobby car shop owners.  With affordable 4 post lifts and space saving single post car lifts, you'll be amazed how easy it is to transform a normal two car space into a four-car dream garage.
The number one question asked is:
How high does my ceiling need to be in order to fit an Automotive Car Lift in my space?
Here's a simple but effective way to calculate the needed height before you install your car lift.
Car #1 Height + Car #2 Height +  8 inch. = Total space need for a car lift.
The ceiling in your garage space must be taller than the total space calculated for a car lift.
 Example: using two modern Chevrolet Corvette's so it will be more clear:
Corvette #1 Height (4 ft.)   +  Corvette #2 Height (4 ft.)   + (8 inch) for Deck and Clearance =  8 ft. 8 inch
In this example the garage CEILING HEIGHT must be taller than 8 ft. 8 inch.
4 Post Car Storage Lifts

Mobile & Free Standing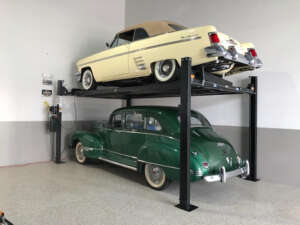 Four post car lift hoist models by Direct Lift are our most popular lifts. The Rotary Lift company, in business since 1925, owns the Direct Lift brand.  Each model carries the highest level of safety certification possible in the industry. Rotary Lift is famous for their quality and long-term durability in automotive repair shops.  Direct Lift offers high quality design in three different models including a standard 8,000 lb model, a tall 8,000 lb model, and an extra wide 9,000 lb vehicle capacity model.
The 4 Post Lifts models require a simple 110 volt electrical outlet and their mobile free standing designs never need to be bolted to the floor.  Direct Lifts come with caster arms and they can be moved at anytime, anywhere you like.  Each residential car lift Includes four(4) Oil drip Trays, one(1) Steel Jacking Tray, four(4) Casters, two (2) Wheel Chocks, and two (2) Steel approach ramps.  The black wrinkle powder paint is super durable and looks great too.  Direct Lifts are made to last!
See Specialty Lifts  on our Website
Single Post Car Storage Lifts
The Ultimate Space Saver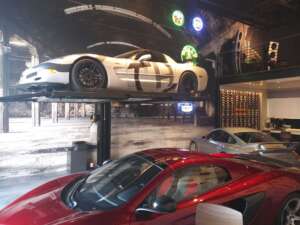 The GTX C-6 Single Post Car Lift is unique, with a maximum 6,000 lb vehicle capacity, it has two different deck widths including standard or extra wide.
Modern sports cars and exotic cars like Lamborghini or Ferrari have an incredibly wide track width.
We have never had issues with exceeding the lifts weight capacity, the only unique issue to address is the width of your car.
Single post residential parking lifts must be bolted to 4" or more thick concrete. They run on a simple 110 volt wall outlet.  While more expensive than a four post lift, single post lifts are the ultimate space saver and look fantastic with a custom polished aluminum drip deck!.
See Specialty Lifts  or Call (239) 529-0011, the all automotive equipment supply.